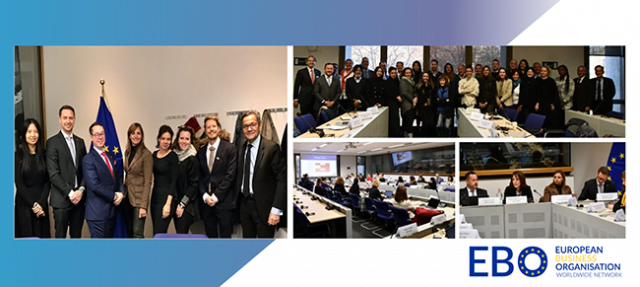 (1st picture; from L-R: Thiane Khamvongsa – EBO Laos; Florian; Sven Schneider – EBO Malaysia; Nele Cornelis – EBO Singapore; Karina Ufert – EBO Myanmar; Delphine Rousselet – EBO Vietnam; Thomas Hesketh – EBO Cambodia – Edison Bako – EBO Indonesia)
Brussels, 12, 13, and 14 December 2022 – European Chambers and Business Councils (EBOs) from almost forty countries came together in Brussels at the invitation of the European Commission's DG GROW for three days of meetings and discussions on how to best promote and facilitate European business in third country markets, how to strengthen communication channels between the European private sector and the EU institutions, and further develop the capacity and partnership between EBOs across our global network.
EBOs have the unique role as the "Voice of European Business Abroad", representing the interests of European firms large and small, and working together with stakeholders including EU/European diplomatic missions and trade promotion organisations, national chambers and many others to advocate for the best possible conditions in third country markets for European business to succeed.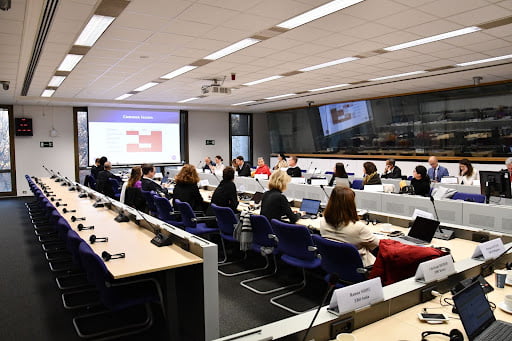 The meeting represented another significant milestone in the development of the network, as EBOs and our members facing considerable challenges during Covid from lock-downs and economic hardship, travel restrictions, supply-chain disruptions and many other factors. Meeting again in person was a welcome return to normal modes of operations, as developing and maintaining personal contacts and networks are an essential element of the way we do business.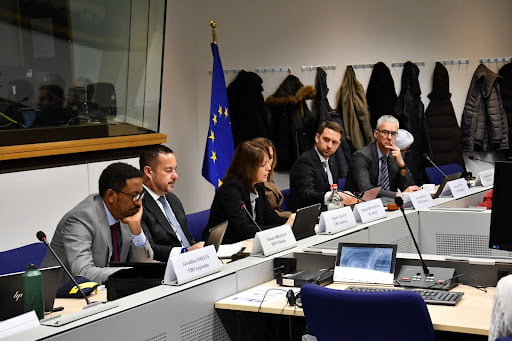 (From L-R: Nahom Abraham – EBO Ethiopia; Jason Collins – EBO Autralia; Myrian Ferran – Deputy Director General DG INTPA; Florian Gottein – EBO Philippines; Christoph Heider – EBO Korea; Raman Sidhu – EBO India)
Our programme included meeting with European Commission DGs – including DG GROW, DG Trade, and DG INTPA; with peak business organisations BusinessEurope and Eurochambres. Topics discussed included post-Covid recovery, EU Trade Policy, the EU Green Deal, RePower EU, critical supply chains (including energy and critical minerals), and the EU Global Gateway. Our colleagues from EBO Ukraine and EBO Russia also joined us for the meeting and shared with us insights on the terrible consequences of Russia's aggression in Ukraine.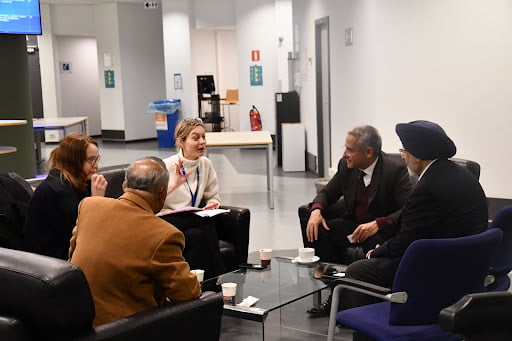 As a consequence of the rapid development of our network, the network now also operates at a regional level, with EBOs grouped into six regions – Africa, Americas & Caribbean, ASEAN, East Asia & Pacific, Europe & Eastern Partnership, South Asia & Middle East. Each of these groups met separately to develop agendas for regional co-operation and engagement. As part of our role to facilitate knowledge sharing and capacity building within the network, three 'best-practice' workshops were held on topics including "Advocacy", "Financial Sustainability", and "Stakeholder Management".
The next physical meeting of the EBO Worldwide Network will be held in Brussels on 19, 20, and 21 June 2023.